Small to Medium PA Systems
Fender PD 150 with two speakers, stands and a microphone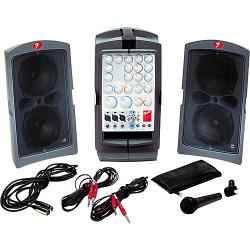 Description:
The Fender Passport Deluxe PD-150 Portable PA excels in convenience, portability, reliability, and amazing ease of use. That's the Passport series. What more could you ask for? How about high-fidelity audio to rival a home theater? That's the new Passport Deluxe Series. A highly evolved loudspeaker design, the Deluxe Speaker Array delivers wide horizontal projection, remarkable clarity, and truly impressive imaging via 3 speaker drivers per cabinet (x 2 cabs). Features 150W of stereo power with digital reverb, proprietary DSA speaker design with 3 custom drivers per cab, 3 mic/line inputs and one mono/stereo input.
Features:
150W (75 per channel) of stereo power with digital reverb
Proprietary DSA speaker design with 3 custom speaker drivers per cab
3 mic/line inputs
One mono/stereo input
Works on batteries or AC wall current
One P-51 microphone with stand clip, cable, and carrying pouch
Speakers can be tripod-mounted, installed, or floor standing
Speaker cables included
Unique one-touch EQ
Vocal Input Priority (lowers music when someone speaks into the mic)
28"W x 21"H x 11"D
28 lbs.