Audio and Video Converters
DataVideo Up Down Cross Converter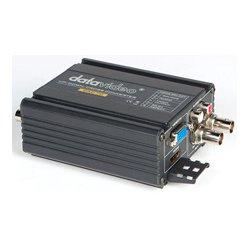 Description:
is an up/down cross-converter that converts between SD, HD, and 3G formats. It accepts VGA, SDI, and HDMI video inputs. It automatically converts to the selected output format, even when the video input changes. The is compatible with 3GB/s SDI, and the converter includes a built-in mini-USB connection for updating to support future video formats.
Features:
Cross-Conversion: can up-convert and down-convert between many 3G, HD, and SD video formats.
10-bit: supports 10-bit processing with high-quality video filtering.
Low SDI Jitter: is built with high-quality standards for low SDI jitter with long SDI cable lengths.
Multi-Channel Audio: Multi-channel audio is supported (Up to 8 Channels embedded)
Firmware Upgradable: The firmware is upgradable via the 's mini-USB port.
RMK-2 Compatible: is compatible with the RMK-2 holder, for holding multiple converters and distribution amplifiers in a 2RU space.