Audio and Video Converters
DataVideo HD/SD-SDI to HDMI converter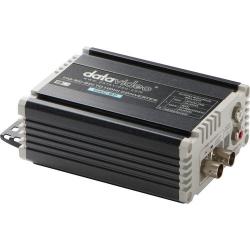 Description:
Converts Video with Embedded Audio
Supports 1080p/60 NTSC and 1080p/50 PAL
RCA Audio Input for Separate Audio
Embeds RCA Audio Input onto HDMI Output
SDI Loop Output
In addition to the SDI input, the converter features L/R RCA audio input. If your SDI input doesn't have audio embedded, you can connect a separate audio signal into the RCA jacks and the converter will embed the signal to the SDI signal on the HDMI output.
Features:
Datavideo's DAC-8P HD/SD-SDI to HDMI 1080p/60 Converter converts an SDI video signal along with embedded audio to HDMI, making possible for an SDI signal to be monitored on an HDMI display or via an HDMI projector. Linked to the SDI input is an SDI loop output for connecting to an SDI monitor at the same time as to an HDMI monitor. DAC-8P supports both NTSC and PAL, automatically detects whether the input is one or the other, and supports resolutions up to 1080p/60 NTSC or 1080p/50 PAL.