Loudspeakers
Mackie SA 1530Z Loudspeakers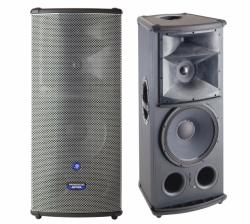 Description:
Studio Sound Quality At Paint-Peeling Volume
SA1530z 3-WAY HIGH-DEFINITION ACTIVE SOUND REINFORCEMENT LOUDSPEAKERS
If you're ready to move up to a louder (think better!) 3-way system, but can't afford a bigger van, then Mackie's SA1530z is a logical choice. The SA1530z is a high-efficiency, extreme output, horn-loaded, 3-way, wide-dispersion, Active sound reinforcement system. The one-piece 90 x 40 horn, which includes both the mid- and high-frequency sections in Mackie's Optimized Wavefront? system, fires the HF content slightly downward into the midrange dispersion pattern. This creates a focused, single wave front with excellent coverage, phase and power response characteristics.
Combined with Mackie onboard Active electronics, featuring our FR (fast recovery) amplifiers, time- and phase-correction crossover, as well as cabinet tuning by the audio experts at Eastern Acoustic Works, and you've got one formidable "tour-de-force" loudspeaker system. Read more...
What? Me Worry?
Our Active electronics take all the guesswork out of system configuration and hookup. Just plug in the power cable and the signal line from your board or snake ? we've already done the rest for you. No need for racks of amps and processing gear when you've got Mackie Active Loudspeakers. The built-in active crossover sends the optimal signal to each of the internal amplifiers, which were custom designed for their respective transducers. Which brings us to amps...
Absolute Power
The SAz Series represents Mackie's most powerful Active loudspeakers to date; re-engineered from the ground up and tuned by the gurus at Eastern Acoustic Works (EAW). The low-frequency amp delivers a whopping 1100-watts to the premium 15" woofer, and the Neodymium midrange and HF transducers each get their own 100-watt amps. And since the 6" midrange transducer operates between 700 Hz and 3000 Hz, there is no need for a crossover point in the middle of the critical vocal frequencies. We're talking smooth midrange.
Cool...
...running, that is. The amplifier modules sit atop a massive aluminum heatsink, eliminating the need for fans. The tremendous benefit of having the amplifiers located within the loudspeaker cabinet is that the SA1530z functions as a complete system, optimizing acoustic, electronic, and mechanical designs to achieve the highest level of performance and value.
On The Flipside
The rear-mounted amplifier assembly features separate signal and AC power panels separated by the heatsink. The signal input panel contains:
Input XLR and loop-through XLR
Volume level control
Power ON indicator
Signal Present indicator
Limit indicator
Thermal Protection indicator
Construction
Each SAz cabinet is constructed using both 18 mm multi-layered plywood and pressure injected structural resin. Weight balanced carrying handles are integrated into the sides and top for easy loading and transport.
The SA1530z a big, and we really mean big, bang for your buck.
Features:
Ultra high-output Active system featuring integrated electronics and acoustic design by EAW loudspeaker team
Tri-Amplified, with independent 1100W RMS low-frequency, 100W RMS mid-frequency, and100W RMS high-frequency amps
Wide-dispersion, ultra-low distortion, high frequency horn design
Optimized wide-dispersion WaveFront? high/mid horn system
44mm (1.75") neodymium high-frequency compression driver
152mm (6") horn-loaded neodymium mid-frequency transducer
381mm (15") LF woofer with high-temperature voice coil
Complete electronic and component circuitry protection
135dB SPL @ 1kHz/1 meter
Frequency Response: 38Hz to 20kHz
Power On, Signal Present, Limiter and Thermal Protection LEDs
Weight balanced with carrying handles for easy portability