Video Switchers, Scalers and Converters
Blackmagic Design Intensity Shuttle HDMI, Analog, componnet s-video, and compaosite capture and playback to USB 3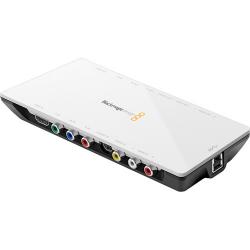 Description:
The Blackmagic Design Intensity Shuttle is a 10-bit HD/SD video capture/playback device that supports USB 3.0, and allows you to capture 10-bit HDMI or analog video directly from a camera onto your computer for professional editing or mere playback. With a neat, compact design, the Intensity Shuttle is very portable and easy to set up. As the input and output connections are on different sides, you can simply plug the unit in line with your existing cable setup.
Supporting HDTV 1080i/59.94, 1080i/50, 720p/59.94, 720p/50, the Intensity Shuttle allows easy and instant switching between HD and SD video standards. Additionally, using the USB 3.0 interface eliminates the need to compress visual data and thus saves on CPU processing power; this allows your CPU to solely focus on HD real-time effects. The video capture/playback device draws power from the USB 3.0 connector itself, and eliminates the need for a dedicated power source.
Fully compatible with multiple software image-editing solutions such as Premiere Pro, Photoshop, After Effects, Fusion, and Nuke, the Intensity Shuttle also supports all Windows USB 3.0 computers.
Note! Not compatible with Dell computers.
Requires Windows 7 and an x58-based motherboard with onboard USB 3.0, or a USB 3.0 PCI Express card and an x58 or P55 series motherboard. Does not support USB 2.0 capture and playback. Not all x58 and USB 3 combinations are compatible. Please see System Requirements under the "Specifications" tab for an approved list of hardware.
10-bit HD/SD capture-playback allows you to capture and playback high-quality 10-bit HDMI data
USB 3.0 support ensures compatibility in the future when USB 3.0 is anticipated to become the main I/O standard
Direct capturing of 10-bit HDMI video allows speeds up editing and playback
Compact, lightweight design ensures that set up and installation are easy
Separate sides for inputs and outputs allow inline connectivity with existing cables
Support for multiple video standards ensures adaptability in varying types of setups
No compression required as the USB 3.0 interface is capable of handling HD video, thereby saving on CPU processing power
No separate power source required as the device draws power from the USB 3.0 connector itself
Compatible with multiple software image-editing solutions such as Premiere Pro, Photoshop, After Effects, Fusion, and Nuke
Features:
Connections
Digital Video Input: 1 x HDMI input. For legal reasons HDMI input is unable to capture from copy protected HDMI sources
Digital Video Output: 1 x HDMI output
Supported HDMI formats: 525 NTSC, 625 PAL, 720HD and 1080HD switchable
HDMI Audio Input: 8 Channels
HDMI Audio Output: 8 Channels
Analog Video Input: Component, NTSC, PAL or S-Video
Analog Video Output: Component, NTSC, PAL or S-Video
Analog Audio Input: 2 Channel RCA HiFi audio in 24 bit
Analog Audio Output: 2 Channel RCA HiFi audio in 24 bit
SPDIF Audio Output: None
Dual Rate support: HDMI and Analog Component switches between high definition and standard definition
Sync Input: None
Device Control: None. FireWire may be used for controlling some cameras
Computer Interface: USB 3.0
Standards
SD Format Support: 625i/50, 625p PAL and 525i/59.94, 525p NTSC, 480p
HD Format Support: 1080i50, 1080i59.94, 1080i60,1080p23.98, 1080p24, 1080p25, 1080p29.97, 1080p30, 720p50, 720p59.94, 720p60
HDMI Video Sampling: 4:2:2
HDMI Color Precision: 4:2:2
HDMI Color Space: YUV 4:2:2
HDMI Audio Sampling: Television standard sample rate of 48 kHz and 24 bit
Processing
Colorspace Conversion: Hardware based real time
Real time effects: Adobe Premiere Pro internal effects in DV, MJPEG and uncompressed edit formats
Firmware
Firmware Upgrade: Firmware built into software driver. Loaded at system start, or via updater software
System Requirements Requires Windows 7 and an x58-based motherboard with onboard USB 3.0, or a USB 3.0 PCI Express card and an x58 or P55 series motherboard. Does not support USB 2.0 capture and playback.
Not all x58 and USB 3 combinations are compatible. One small variable on an x58 can prevent compatibility. Blackmagic therefore recommends the following hardware as guaranteed to work --
Certified PC workstations:
Hewlett Packard Z400
Hewlett Packard Z800
Certified combinations:
Gigabyte X58A-UD5 motherboard with Intel Core i7 processor and GeForce GTX 285 graphics card (driver version 260.99)
Asus Crosshair IV formula motherboard with AMD Phenom II X6 1090T 3.21 GHz processor and ATI Radeon HD 5800 series graphics card (2D driver version 8.01.01.1105)
Certified notebook computers:
MSI GE620
Recommended motherboards:
Asus P6X58D-Premium
Asus P6X58D-E
Gigabyte GA-X58A-UD7
Gigabyte GA-X58A-UD5
Gigabyte G1.Sniper (rev. 1.0)