Video Camera Production Accessories
Express Card/34 Thunderbolt Adapter from Sonnet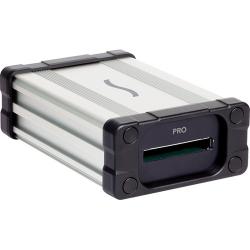 Description:
The Echo Pro ExpressCard/34 Thunderbolt Adapter from Sonnet connects with Thunderbolt technology equipped computers. The Thunderbolt technology speeds up to 10 Gbps and it supports high-resolution displays as well as high-performance data devices through a single, compact port. This adapter expands Thunderbolt connectivity to support more than just storage systems and monitors. You can add an ExpressCard/34 slot to any computer through this adapter. This enables you to use a wide variety of ExpressCard/34 cards to add a range of interfaces and capabilities to your system.
The adapter allows you to add FireWire ports or an eSATA interface to your setup. This supports hot-swapping which helps you to select and change the ExpressCard as per your need. Most Sonnet ExpressCard/34 cards (with a PCIe interface), such as Sonnet FireWire interfaces, CompactFlash and SDXC card readers, select eSATA controllers, interface cards for Qio CF4 and Qio E3 pro media readers and ExpressCard 2.0 are also supported.
The adapter boosts specialty adapters like RME's HDSPe ExpressCard and interface cards for the AJA io Express as well as the Matrox MX02 family. Install Sony's latest SxS driver* thus enabling support for Sony SxS memory card. This card is used in Sony's popular XDCAM EX line of professional HD camcorders and the ARRI ALEXA line of digital cameras. With the added capability to read SxS, SxS Pro and SxS-1 cards, it is the high speed SxS memory card reader. It enables Thunderbolt technology equipped Mac computers to read SxS cards at over 100 MBps.
Note! * Sony's Thunderbolt technology-compatible SxS driver for Mac OS X may be downloaded from this Sonnet support link.
The Echo Pro ExpressCard/34 Thunderbolt Adapter enables you to use ExpressCard/34 adapters with Thunderbolt technology equipped computers to expand your computer's connectivity and capabilities. This adapter ingests footage from SxS memory cards at up to 100 MBps. It features high-performance 10 Gbps Thunderbolt technology, 5.0 Gbps ExpressCard 2.0 or 2.5 Gbps ExpressCard interface. The adapter supports common ExpressCard/34 adapters as well as Sonnet Pro CompactFlash and SDXC readers; FireWire and selected eSATA adapters. It also enables use of Qio CF4 and Qio E3 pro media readers in computers which are Thunderbolt technology enabled. The Echo Pro ExpressCard/34 Thunderbolt Adapter supports ExpressCard adapters for specialty devices such as AJA io Express and Prism Sound ADA-8XR and Orpheus.
Features:
SxS Compatible Yes, with following driver
Bus Interface 1x PCIe 2.0
External Connectors 1x Thunderbolt
1x ExpressCard/34
Data Transfer Speed Up to 5.0 Gbps
Supported ExpressCard/34 Adapter PCIe-based with driver support for Thunderbolt technology
Compatibility Compatible ExpressCard/34 Cards:
eSATA:
Sonnet Tempo SATA Pro 6 Gb ExpressCard/34 1
Sonnet Tempo edge SATA Pro 6 Gb ExpressCard/34 1
Sonnet Tempo SATA Pro ExpressCard/34
FireWire:
Sonnet FireWire 800 Pro ExpressCard/34
Sonnet FireWire/USB ExpressCard/34 (FireWire ports only)
Memory Card Readers:
Sonnet SDXC UHS-I Pro Reader/Writer ExpressCard/34
Sonnet Pro Dual CompactFlash Adapter ExpressCard/34
Sonnet Qio Pro Universal Media Reader 6
Sonnet Qio Pro E3 Pro SxS Media Reader 1
Sonnet Qio CF4 Pro CompactFlash Media Reader 1
Compatible Devices:
Sonnet Qio E3 3-card/device expander 1
Compatible ExpressCard/34 Cards:
Matrox ExpressCard/34 adapter
RME HDSPe ExpressCard
RME HDSPe MADIface ExpressCard
Sony SxS-1, Sony SxS Pro
Compatible Devices:
AJA io Express 2
Magma ExpressBox 1 3
Matrox MXO2 Mini
Matrox MXO2 Mini MAX
Matrox MXO2 LE
Matrox MXO2 LE MAX
Matrox MXO2
Matrox MXO2 MAX
Matrox MXO2 Rack MAX
RME Hammerfall DSP Multiface II 4
Compatible FireWire Devices: 5
Metric Halo 2882
Metric Halo LIO-8
Metric Halo ULN-2
Metric Halo ULN-8
PreSonus FireStudio Mobile 7
PreSonus FireStudio Project 7
PreSonus Studio Live 16.0.2 7
PreSonus Studio Live 16.4.2 7
PreSonus Studio Live 24.4.2 7
Prism Sound ADA-8XR
Prism Sound Orpheus
Mac Compatibility:
Mac with Thunderbolt Technology
iMac, Mac mini, MacBook Air or MacBook Pro with a Thunderbolt port
Mac OS 10.6.8+
Mac OS X Lion compatible
SxS compatible with following driver
RoHS Compliant Yes
Dimensions (WxDxH) 2.7 x 4 x 1.3" (6.7 x 10 x 3.4 cm)
Weight Not specified by the manufacturer
Note: 1. PCIe 2.0 card which performs better in ECHOPRO-E34 adapter.
2. Requires restart.
3. When used with PCIe card compatible with Thunderbolt technology.
4. Tested with Mac OS X 10.6.8 and RME HDSPe ExpressCard.
5. When used with Sonnet FireWire 800 Pro ExpressCard/34.
6. P2 requires 32-bit boot.
7. It runs at lowest latency settings and even runs two 24 channel consoles together on a single 1394 connection all at 32 samples per buffer with no dropouts.