Audio Sound Recording Equipment
Marantz CDR300 Professional Portable CD Recorder Also for sale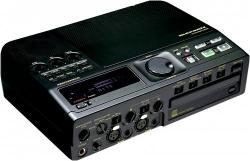 Description:
The CDR300 by Marantz Professional is the world's first CD Recording system designed for stand-alone portable recording. This professional CD recorder offers the functionality of a professional tape recorder, while recording directly to blank CD-R/RW media. Once finalized, recorded discs will play back in virtually any CD player.
To record, simply place the compact and lightweight CDR300 on a table-top, plug it into an AC electrical outlet, and record live using either the internal microphone or external microphones that attach to stereo XLR or 1/4-inch mic/line inputs. Because a preamplifier is built into the unit, an external mixer or mic preamp is not required. A built-in speaker or headphone jack conveniently allows recordings to be monitored.
"There are many advantages to recording direct to CD-R/RW," says Peter Papageorge, National Sales Manager for Marantz Professional. "The media can be purchased for pennies yet offers superior sound quality compared to cassettes. And most everyone now owns a CD player that can play back CD-R discs."
High and low EQ and high and band pass filtering can be independently adjusted for each mic/line input in the preset menu. 48 volt phantom power is available for condenser microphones. The unit also provides manual or automatic level control, limiter, and digital level meters.
"We've designed the CDR300 to be as easy to use as our respected line of portable tape recorders. You can start and stop recording just like a tape, and if you use rewritable discs you can even erase the disc or last track," says Papageorge.
The CDR300 is a professional-grade CD recorder that records to both music and computer CD-R and CD-RW discs. Track titles can be input using CD-Text. It can make a perfect digital copy of any CD. The unit can also record a CD from any digital or analog source including LPs, DATs, cassettes, or MiniDiscs. RCA analog inputs/outputs and digital (SPDIF) input/output are provided on the rear panel. A 4-pin DC power input enables the CDR300 to be used with external gel-cell battery packs.
Features:
Built-in microphone and speaker
Stereo XLR & 1/4 in. mic/line inputs
48V Phantom Power
RCA line out
Stereo RCA Aux input
Digital RCA (SPDIF) input and output
Programmable mic/line EQ
Programmable mic/line high and band pass filtering
Manual or automatic level control for recording
Onboard limiter
Computer CD-R/RW disc compatible
3-band master EQ
Full function IR remote included
AC Power or 4-pin DC connection for use with gel-cell battery packs
Features:
Marks each minute of spoken word as a track so that during playback the listener can automatically navigate to a minute-specific track
Reliable Battery Backup Using the optional RPS300 battery system, you can record up to four hours in the field
First-rate meeting recording
Convenient, tabletop design, built-in microphone, internal speaker, and microphone inputs, automatic level control, mic filtering, limiter
Programmable EQ make stereo recording possible without the need for external mic preamps or mixer