Video Switchers, Scalers and Converters
Firewire Matrix Switcher 6 channel Kramer VS-66FW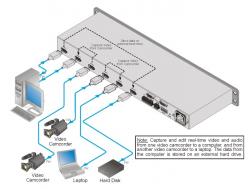 Description:
Applications:
Video broadcast studios for high quality signal routing.
Video production studios with Non-Linear editing systems.
The VS?66FW is a high?performance bidirectional matrix switcher/hub for FireWire? (IEEE 1394 & 1394A) signals. It connects multiple ports to create standard branch/leaf groups.
Transfer Rates - 100, 200, and 400Mbps.
Take Button - Executes multiple switches all at once.
Memory Locations - Stores multiple switches as presets to be recalled and executed when needed.
Front Panel Control Lockout.
Control - Front panel, RS?232 (K?Router? Windows??based software is included), RS?485, contact closure, & IR remote (included).
Worldwide Power Supply - 100?240V AC.
Standard 19? Rack Mount Size - 1U.
Features:
INPUT/OUTPUT: 6 ports on 6?pin 1394A connectors.
STANDARDS: Compliant with IEEE 1394?1995 and 1394A?2000 standards.
BUS TRANSFER RATE: Up to 400Mbps signaling rates for high?performance serial bus.
SOURCED POWER: 12V 1.5A total for any one or all ports.
COMPATIBILITY: PC and MAC.
CONTROL: 18 front panel pushbuttons and Kramer IR remote receiver on front. RS?232 In/Out on 9?pin D?sub F/M and RS?485 on detachable terminal block.
INDICATORS: 6?character display on the front panel.
POWER CONSUMPTION: 100?240V AC, 50?60Hz, 30VA.
DIMENSIONS: 19" x 7" x 1U W, D, H, rack mountable.
WEIGHT: 2.2kg (4.9lbs) approx.
ACCESSORIES: Power cord, null?modem adapter, Windows??based control software.