Video Recorders, Players and Editors
Focus Enhancements FS-H200 Compact Flash Video Recorder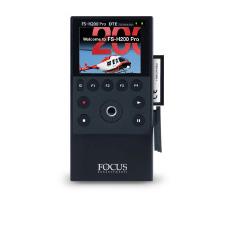 Description:
The Focus Enhancements FS-H200 is a portable direct-to-edit recorder designed to use CompactFlash cards. The recorder supports both DV and native HDV acquisition in a variety of resolutions and has the ability to record over 2.5 hours of footage to a 32GB card. By simply swapping in a fresh card when one is full, users can shoot the whole day without having to offload.
Recording to CompactFlash
New to the Focus Enhancements line, the FS-H200 records directly to CompactFlash, making it easy to record and transfer files.
Speed up your Editing Workflow
When using the FS-H200, moving from acquisition (recording) to post-production (editing) is so fast and easy you'll never want to record on tape again! Not only is capturing and digitizing footage boring, it takes up precious time that could be used managing other aspects of your project. By using CompactFlash, the offload process can wait until you're ready.
Ultra-Portable Design
The FS-H200 is lightweight, durable, and can fit virtually anywhere. Most importantly, when the unit is attached to a camcorder it won't adversely effect weight distribution or make the camera unmanageable. This is especially important while shooting documentaries or live events where camera operators may record for long periods of time in unpredictable environments.
High-Resolution LCD Screen
The LCD screen on the FS-H200 is both bright and clear, making it easy to use in even the most brightly lit locations.
Features:
Video System: NTSC
Configuration: Portable
Technology: DTE CompactFlash Recorder
Mounting: Belt Mount or On-Camera
Compatible Camcorders: Mini DV (DV25 Camcorders), Canon XLH1, Canon XL H1a, JVC GY-HD100/110, JVC GY-HD200, JVC GY-HD250, Canon XHG1 Sony HDR-FX1, Sony HVR-HD1000U, Sony HVR-V1U, Sony HVR-Z1U, Sony HVR-Z7U 1
Power Requirements: 11-18VDC
Power Consumption: 7.5W
Operating Temperature: 32-104?F (0-40?C)
Storage Temperature: -40-140?F (-20-60?C)
Dimensions: (WxHxD) 2.8 x 5.4 x 1.3" (7 x 13.7 x 3.2cm)
Weight: 12 oz (0.3kg)
Options:
Compact Flash (CF) cards: 16-128GB