Sound Mixing, Amplification and Processing
Behringer FBQ3100 Ultragraph PRO 31 Band Equalizer EQ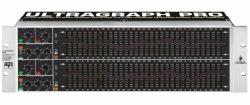 Description:
Perfect Sound with 2 x 31 Bands
Behringer's new Ultra-Graph Pro is a high-end, 2-channel graphic equalizer with flexible signal processing capabilities. This professional sound-shaping tool can be used at live venues for PA optimization or in the studio to process individual signals or your stereo mix. The GEQ3102 is also perfect for feedback removal or placing vocals and instruments in the mix. Last but not least, the Ultra-Graph Pro is a useful tool for mastering.
Direct Access to All Controls
The Behringer Ultra-Graph Pro enables you to directly access all functions, allowing lightning-fast adjustments and precise setting in any situation. All controls are illuminated and two 12-segment LED displays can be set to monitor input or output level, helping you to prevent overloading. The sweepable high-pass and low-pass filters allow "pre-graphic" trimming of the frequency range. After that, you can get to the heart of the matter with 31 EQ faders per channel for extensive processing between 20 Hz and 20 kHz. A Range button is included, which switches the maximum boost/attenuation of all bands between +/-12 dB and +/-6 dB. For quick comparison between original and processed signal, the entire EQ section can be switch on and off via the relay-controlled Audio IN/OUT button.
Live on Stage: The Ultra-Graph Pro's Natural Environment
Club, stadium, and concert hall acoustics can vary immensely depending upon their construction. Even with the best PA system, an engineer often has to fight hard against poor clarity, dull sound and ill-defined signal positioning. The Ultra-Graph Pro offers invaluable assistance in adapting the program material to the current room acoustics. With the GEQ3102, you can achieve dramatically improvements in signal presence and overall audio quality, optimize your system's efficiency, and give the audience the kind of sound they expect. Feedback loops in the monitor system are a breeze to conquer. Just zap the feedback frequency with maximum attenuation and that feedback is history. Extremely low frequencies are often cut to avoid low-end feedback, which leads to muddy sound. Used in the monitor system, the Ultra-Graph Pro cleans up your monitor sound, making it more transparent and giving you considerably more headroom. Go ahead and crank up that aux send master. By the way: if you should ever be surprised by a power-down, the GEQ3102 is automatically switched to bypass mode. The same relays that take care of this also provide a switch-on delay to protect your system against dangerous switching noises.
Ultra-Graph Pro: You're in Control of Your Music's Sound Spectrum
You want a differentiated audio image for your production? With the Ultra-Graph Pro, you've got extensive signal processing capabilities. Boosting or attenuating certain frequencies can accent voices and instruments in the mix. Next to this classic application, equalizers are often used today for creative sound design: with extreme settings you can conjure up wild effects that get your audience's attention. A further application is mastering. Sometimes a mix sounds a bit out of whack. Using the GEQ3102 in the sum enables you to manipulate a finished mix by correcting frequency imbalances until the mix sounds homogenous. No matter which application, the Ultra-Graph Pro helps you reach your goal: that same professional sound you hear out of top recording studios.
The Ultra-Graph Pro GEQ3102: perfect sound with 2 x 31 bands!
Features:
Professional 31-band stereo graphic equalizer for live and studio applications
Revolutionary FBQ Feedback Detection system instantly reveals critical frequencies and can also be used as audio analyzer
Dedicated mono subwoofer output with adjustable crossover frequency
Additional sweepable high and low-cut filters for each channel remove unwanted frequencies, e.g. floor rumble, hiss etc.
Highly accurate 12-segment LED input/output metering and input gain controls for easy level setting
Ultra-low noise audio operational amplifiers for highest signal integrity
Relay-controlled hard-bypass with an auto-bypass function during power failure (failsafe relay)
Servo-balanced inputs and outputs with 1/4" TRS and gold-plated XLR connectors
Shielded toroidal power transformer for ultra-low noise performance
High-quality components and exceptionally rugged construction ensure long life