Audio Sound Recording Equipment
Marantz PMD570 - Rackmount Compact Flash Recorder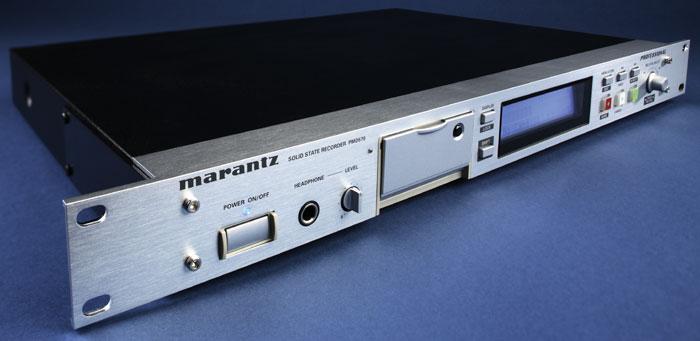 Description:
The Marantz PMD570 is a rackmount 2-channel digital recorder housed in a handsome black and burnished silver chassis, that records to plentiful and inexpensive Compact Flash cards and Microdrives as the storage media of choice.
The PMD570 utilizes a variety of user selectable and program-appropriate compression types, conserving the amazing storage capacity of the CF cards, and supports a variety of file formats. The onboard computer I/O connector facilitates quick and direct computer transfers, for archiving and editing, and the PC-only PMDEdit software is available from Marantz for seamless file management.
Tne analog connectors of the PMD570 include both balanced XLR and unbalanced RCA, and a coaxial SPDIF digital I/O is also available for transfer to other types of digital recorders or workstations. An installation-friendly RS232C control port is standard with this unit, as well.
The PMD570 is a stable and innovative solution for conference, lecture and house of worship speech recording, equally at home in the boardroom or the control room.
Features:
Records directly to inexpensive and readily available Compact Flash and Microdrive media
Stable storage media with no moving parts
Mono and stereo recording
One touch record button
Multiple file format support includes MP2, MP3, WAV and BWF with 40 quality settings
Program-appropriate selection of sample and bit rates conserves card capacity, increased recording time at lower resolutions
Minute Track
Direct on-board computer connectivity for digital archiving and editing in digital domain, eliminates second stage transfers from tape and other storage media
Proprietary PMDEdit file management and editing software available for PC
Over 50 hrs. of
SPDIF digital input and output
Full 2-way RS232C control, installation-quality of construction
Locking security door for card slot
MPEG1 Layer II and III Compression(.mp2, .mp3)
MPEG2 Layer III Compression*(.mp3)
2 x XLR Female, Balanced
2 x RCA Phono(L, R), Unbalanced
1 x SPDIF Coaxial Digital In
Computer I/O Port
RS232C Port
2 x RCA Phono(L,R), Unbalanced
1 x SPDIF Coaxial Digital Out